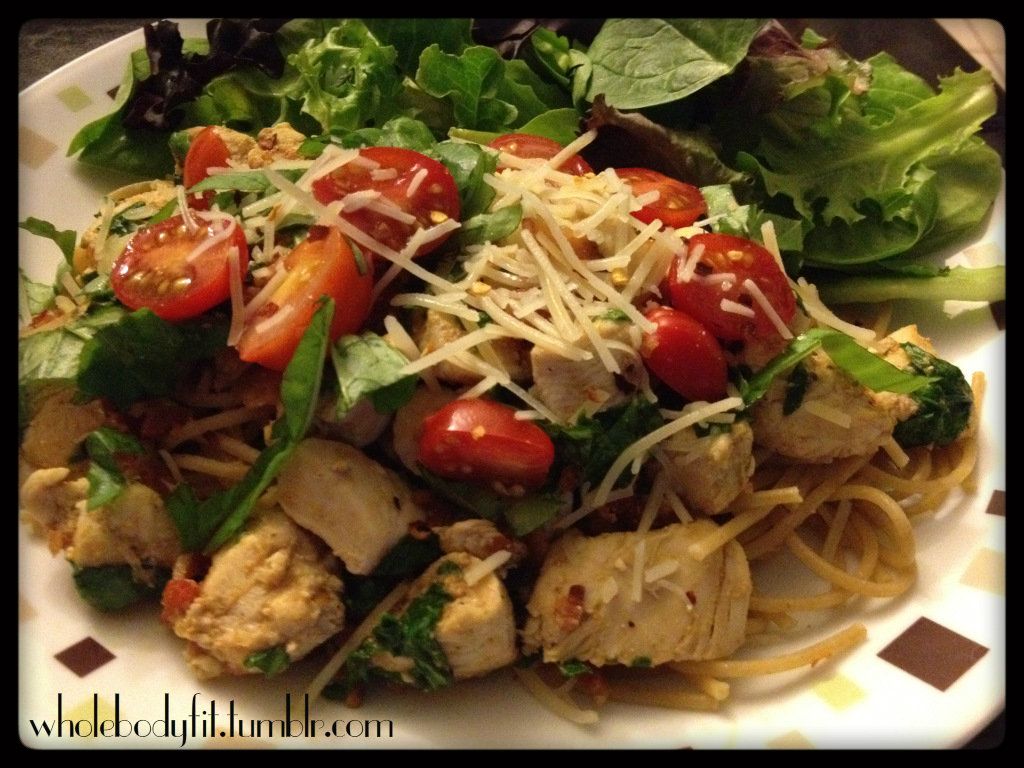 by Tara Wright
Yields 4 servings
Ingredients: 
2-3 decent sized boneless skinless chicken breasts, diced
3 cups whole wheat or brown rice pasta, cooked and drained
1 carton grape, cherry, or mini heirloom tomatoes, halved or quartered
10-15 large fresh basil leaves, cut into chiffonade(<——-click for instructions)
4 strips turkey bacon
1 15 oz can petite diced tomatoes, no salt added
2 cups spinach, washed, dried & chopped 
2 cloves fresh garlic, chopped
4 tbsp extra virgin olive oil
fresh shredded parmesan cheese
salt & pepper to taste
Directions:
Prepare basil, spinach, garlic, tomatoes, pasta and chicken as directed above; set each item aside until further notice.  Start cooking chicken in a non-stick skillet with a spritz of nonstick spray or olive oil.  Prepare turkey bacon (skillet w/nonstick is probably your best bet here too); be sure it is a bit on the crisp side without burning; set aside to cool.  Once diced chicken is cooked through, add canned diced tomatoes, chopped garlic and spinach.  Season a bit with salt, pepper, and dried basil to taste (I used frozen basil cubes by Dorot—available at Trader Joe's); remove from heat or turn to low once spinach is wilted.  Portion out the cooked pasta, top each pasta plate first with basil chicken mixture, then fresh cut tomatoes, sprinkle with basil chiffonade pieces.  Top with 1 tbsp of fresh shredded parmesan cheese per serving, add a sprinkle of crushed red pepper flakes on top.  Finish the dish by chopping up your crispy turkey bacon and sprinkling the bits on top, then drizzle up to 1 tbsp of extra virgin olive oil per serving.  Toss a bit and serve!    
Suggestion:
I had leftover chicken when I prepared mine, and I turned around and used it for a salad using everything but the noodles the next day for lunch, adding a bit of low cal/fat italian dressing instead of olive oil.  Delish!
Enjoy:)