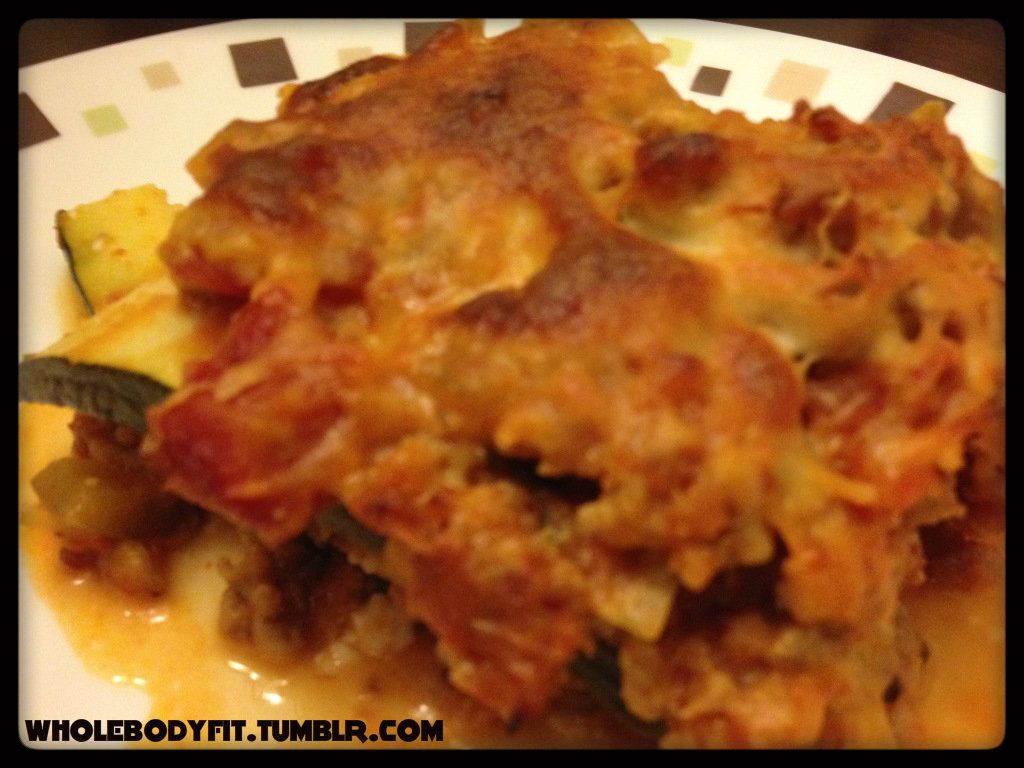 by Tara Wright
Yields 10-12 servings
There's nothing like the down-home feeling of a delicious lasagna dinner! Unfortunately, lasagna doesn't exactly meet or exceed our nutritional standards….like, ever.  This lasagna takes a ton of the guilt out of eating this Italian dish, but it still resembles the flavors that we all love so dearly.  
Ingredients:
4 large green zucchinis (I was able to use one giant garden zucchini, but this measurement is based on your likely store availability)
2 cups lowfat (2%) cottage cheese
2 links Jennie O Italian turkey sausage (uncooked; found in meat section)
1 jar low sodium spaghetti sauce (or homemade as long as it is low sodium & no sugar added)
1 cup shredded low-fat/skim mozzarella 
1 package ground lean turkey 
2 large fresh tomatoes, diced (or 1 can of *drained* diced will work in a pinch—no salt added)
1/2 medium white onion, diced
2-3 cloves garlic, minced (depends on how garlicky you like it)
1 tsp oregano
1 tsp dried basil
salt & pepper to taste (probably won't even need any)
Directions:
Preheat oven to 375.  Remove casings from turkey sausage.  Brown entire package (1.25 lbs is standard) of ground turkey along with the raw turkey sausage, breaking apart the meat frequently as it cooks.  Add diced onion and garlic to the meat. Pour jar of sauce into the skillet, followed by diced tomatoes; turn to low and let it simmer.  Cut off and discard the ends of each zucchini.  Turning the zucchini vertical, slice in long, thin strokes all the way down the veggie.  The result will be a long, flat shape that will work very nicely in place of a noodle.  Using a 9x13 glass or metal pan (pre-treat with non-stick spray), lay out a layer of zucchini slices on the bottom of the pan.  Measure out 2 cups of cottage cheese, then scoop a dollop at a time for the next layer, spread with the back of a spoon.  Next, roughly estimate 1/2 of your meat/sauce mixture and pour it in for the next layer; spread.  Follow this up with another layer of zucchini "noodles" to cover the sauce.  Pour the remainder of the red sauce on top of the zucchini layer.  Last, sparingly sprinkle no more than 1 cup of shredded mozzarella on top.  Pop it in the oven for 25-30 minutes (be sure the zucchini slices are tender) and divide into 10-12 squares. Devour immediately.  
Suggestions:
A nice slice of this with a big salad is a perfect meal!  And, this dish serves plenty, so you should have leftovers too.  I found that it keeps at least 2-3 days if stored properly in an airtight container in the fridge.  
You might know by now that I love a little heat.  Don't be afraid to sprinkle a bit of crushed red pepper on top of this or even a few drops of Sriracha.  Yum!!  
If you are one of the lucky few who can have whole wheat pasta, I have seen lasagna noodles available at several grocery stores.  If brown rice is incorporated into your diet, there are also brown rice lasagna noodles in many stores!  Adjust the dish accordingly, but know that the zucchini does add a touch of something different- so maybe keep a little in as a layer all its own:)  
Chopped spinach would be great in this too!  Throw some into the pan when you are cooking the meat to give it time to wilt/heat up.  It is always nice to pack extra veggies into your main dish.  
Enjoy!