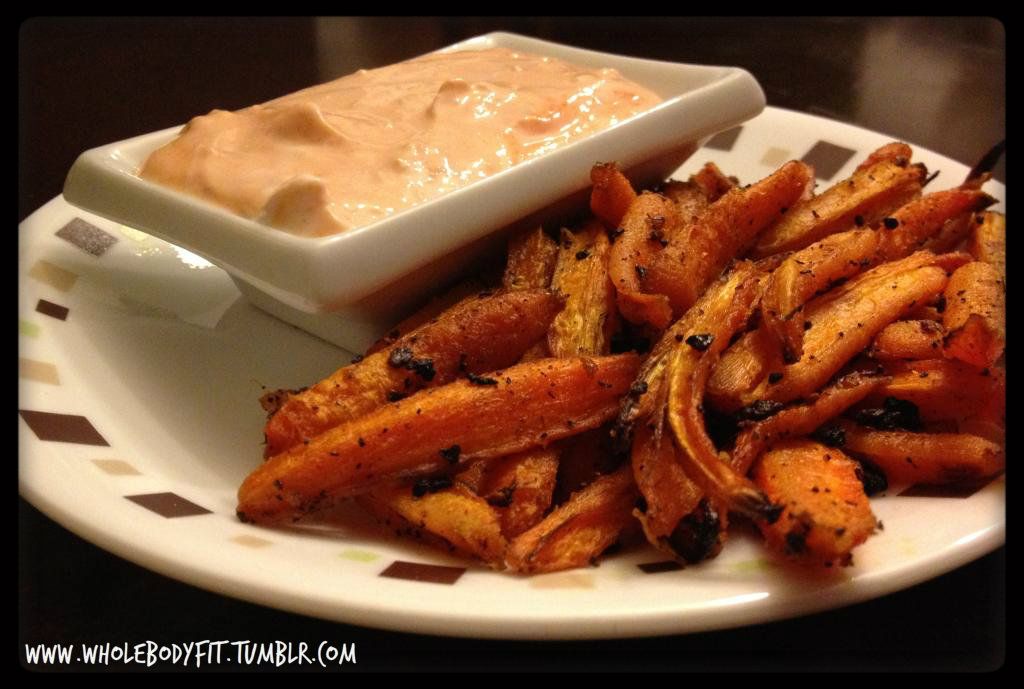 by Tara Wright
Serves 2-4 
This concoction is for those of you who say there are only so many ways to eat a vegetable!  When you need a little variety in your veggies, go for this tasty recipe. With the creamy garlic dip, you will think you're cheating; but with this kind of fry, it's okay to go back for a second helping:)  
Ingredients:
1-2 lbs carrots, peeled & sliced julienne (I used baby carrots)
2 egg whites, whipped
1+ tsp Sriracha sauce ("Rooster" chili sauce located in Asian food aisle)
sprinkle of pepper & seasoned salt
sprinkle of chili powder
1 tbsp Extra Virgin Olive Oil, sprayed evenly or drizzle & toss
Garlic Dipping Sauce
1/2 cup 2% Greek Yogurt (Fage brand makes a 2%)
2 tbsp minced/finely diced garlic
*Optional* squirt of Sriracha for added zesty heat
Directions:
Preheat oven to 425 (unless your oven runs hot, then go 400).  Prepare carrots by slicing into "fry" julienne shape; I found that quartering each baby carrot worked well.  Throw all carrot fries into large bowl.  Whisk olive oil with Sriracha, drizzle over carrots in bowl and toss until coated.  Spread carrots out in single layer onto pregreased (read: light coat of non-stick spray) cookie sheet, sprinkle a light layer of chili powder.  Whip up egg whites and, using silicone or pastry brush, brush egg onto the surface of each carrot slice.  Last, sprinkle a touch of pepper and a light dusting of salt over the batch.  Pop them in the oven for 20-30 mins (really depends on the oven here, so after about 18 mins, start to watch closely for browning).  You definitely want them to be browned for the crispiness factor, but be careful that the small pieces don't char!  Every few minutes, open up the oven and toss the fries with a spatula for even cooking.  
While the fries are cooking, you can whip up the garlic dip!  In a small bowl, add yogurt and chopped garlic.  Don't be shy with the garlic, people.  If you love heat, go ahead and add a little Sriracha to the mix too.  
These "fries" are a great substitute for a carby side dish and have even been kid-tested and approved!  Let us know what you think:)
Suggestions:
Chop up a handful of fresh italian parsley and add it to the garlic dip, or sprinkle it over the top of the cooked carrot fries for a little extra pop of flavor.  
I cannot stress how important it is to keep an eye on the fries during the 20 minute mark.  You don't want soggy fries, but you don't want them to burn either. Check in on them every 1-2 minutes until done to your satisfaction:)
As you can see in my pic, I could not resist putting some extra garlicky goodness on my fries prior to cooking.  This did add flavor, but those little bits do char rather quickly.  We didn't mind, but do realize this if you decide to go the extra garlic route!
Good news: this recipe would work just as well with sweet potatoes.  
Enjoy!!